Chapter 10

Adverse reactions
10
A. Reporting
| | |
| --- | --- |
| Attention: All transfusion reactions (mild to life-threatening) and transfusion-related errors must be reported to the hospital's transfusion service (blood bank). | |
What:
The Transfusion Medicine Laboratory (TML) will investigate, assess and report the event to Transfusion-Transmitted Injuries Surveillance System (TTISS) which will then report to Public Health Agency of Canada (PHAC)*. In Québec, the hospital's transfusion service reports all transfusion reactions to Québec Hemovigilance System, which then reports to PHAC.
Component reactions relating to the quality of the product must also be reported to CBS/HQ.
Plasma derivative reactions related to quality must also be reported to the particular manufacturer.
How:
CBS/HQ and PHAC* reporting forms are available from all hospital transfusion services.
Contact your transfusion service for more information
It is the transfusion service's responsibility to submit them to CBS/HQ and PHAC
* www.phac-aspc.gc.ca (click on Infectious Diseases; Blood Safety)
B. Reaction by symptom
Symptom

Consider the following possible reactions

Fever

- Bacterial sepsis or contamination
- Acute hemolytic transfusion reaction
- Febrile non-hemolytic transfusion reaction (FNHTR)

Dyspnea

- Transfusion-related acute lung injury (TRALI)
- Transfusion-associated circulatory overload (TACO)

Urticaria & Other Allergic Reactions/Anaphylaxis

- Anaphylaxis
- Minor allergic reaction – Urticaria

Hypotension

- Bradykinin mediated hypotension

Hemolysis after transfusion

- Acute hemolytic transfusion reaction

- Hemolysis not related to RBC alloantibodies

- Delayed hemolytic transfusion reactions

Cytopenias after transfusion

- Transfusion-associated graft vs host disease (TA-GvHD)
- Post-transfusion purpura (PTP)
- Transfusion-related alloimmune thrombocytopenia
- Transfusion-related alloimmune neutropenia

Virus, Parasite, and Prion Infections

- Viruses
- Parasites
- Prions
- Other transfusion-transmissible agents
i)  Fever
Image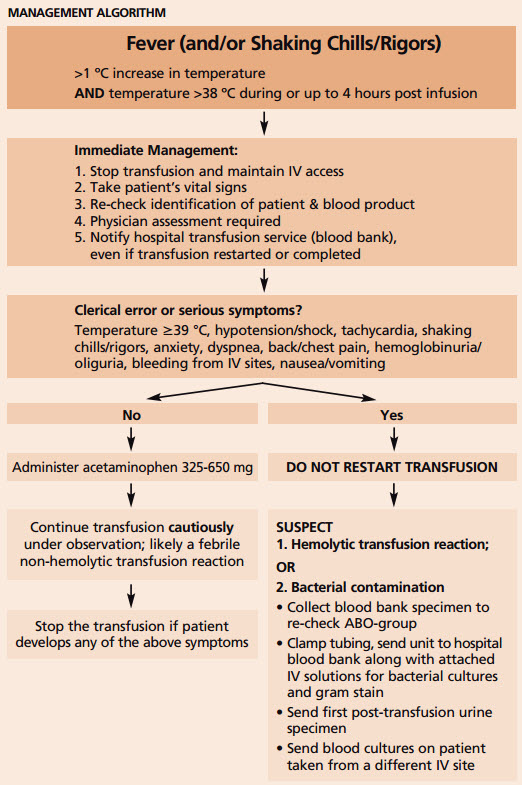 Bacterial sepsis or contamination
Etiology1
Blood components may be contaminated by:
Skin commensals from the donor (each venipuncture may result in a small skin plug that may be retained in the donation bag).
Unrecognized bacteremia in the donor.
Contamination from the environment or from handling of the product.
Gram-negative

Escherichia coli
Serratia marcescens
Klebsiella pneumonia
Pseudomonas species
Yersinia enterocolitica

 

Gram-positive

Staphylococcus aureus
Staphylococcus epidermidis
Bacillus cereus
Incidence1, 2, 4, 5, 6, 7
|   | Bacterial contamination | Symptomatic septic reactions | Fatal bacterial sepsis |
| --- | --- | --- | --- |
| Buffy coat platelet pool | 1 in 1,000 | 1 in 10,000 | 1 in 200,000 |
| 1 unit of RBC | 1 in 50,000 | 1 in 250,000 | 1 in 500,000 |
Bacterial sepsis accounts for at least 10% of transfusion-associated fatalities.

3

Bacterial sepsis occurs most frequently with platelets due to their storage at 20-24ºC for preservation of function
About two thirds are Gram-positive and one third Gram-negative.3
Clinical Presentation
Clinical features of transfusion-associated sepsis may include: 5,8

Rigors, fever, tachycardia, hypotension, nausea and vomiting, dyspnea, disseminated intravascular coagulation.

It is usually possible to culture the offending organism from both the patient and the transfused product.
There may be no immediate clinical signs of bacterial infection after transfusion of bacterially-contaminated platelets, if the bacterial load is small.

Delayed presentation of symptoms up to 24 hours post-transfusion reported.7
Management 6,8
If transfusion-transmitted bacterial infection is suspected:

Stop the transfusion!
Notify the hospital transfusion service (blood bank)

Hospital transfusion service (blood bank) will notify the supplier so that:

other products from the same donor(s) can be quarantined, cultured, and discarded AND
any recipients of other products can be identified and followed up.
Return residual of blood product(s) and tubing (clamped) for culture  and gram stain to the hospital transfusion service
Collect peripheral blood specimen for blood culture from a different IV site
Provide aggressive supportive therapy as appropriate, including broad-spectrum antibiotics.
DO NOT WAIT FOR RESULTS OF BLOOD CULTURES PRIOR TO STARTING ANTIBIOTIC THERAPY
Prevention
The skin is disinfected at the donation site to reduce bacterial contamination by skin flora.
The first 40 mL of blood collected is diverted and sequestered in a pouch to reduce risk of transmitting
organisms from skin (can be used for infectious agent testing).
Apheresis and buffy coat platelets are cultured by CBS/HQ prior to issue to hospitals.
RBCs are stored at 1-6 °C in a monitored blood bank refrigerator.
Acute hemolytic transfusion reaction
Etiology
Acute hemolytic transfusion reactions may be associated with:
ABO-incompatibility

Is due to a clerical error or other error in patient identification
HALF of all errors are due to administering properly labelled blood to the wrong patient11
Other errors are the result of improper labelling of specimens or testing errors

RBC alloantibodies (non-ABO)

Result from patient immunization from a prior pregnancy or transfusion
Causes of reactions include:

Red cell alloantibodies in the patient's plasma below the level detected by the antibody screen
Clerical error during patient antibody screening
Failure to detect RBC antibody due to limitation of the laboratory assay
Uncrossmatched blood transfused to a patient who is alloimmunized
Incidence 
1 in 38,000 red cell transfusions are ABO-incompatible due to transfusing the wrong blood to a patient.11
Less than 10% of ABO-incompatible transfusions result in a fatal outcome.11
Over 50% of patients have no morbidity from an ABO-incompatible transfusion.
Risk of death correlates with the amount of incompatible blood transfused.12
Clinical presentation13
Most common clinical presentation:

Fever and chills
Hemoglobinuria
Less common: pain, hypotension, nausea/vomiting, dyspnea, renal failure, DIC

Fever may be the only presenting sign of an acute hemolytic transfusion reaction.
Management
Stop the transfusion!  
Check if there is a clerical error. Check identity of patient vs. patient identity on blood product label.
Notify hospital transfusion service (blood bank).
Send specimens to hospital transfusion service to re-check ABO-group.
Return residual of blood product(s) and tubing (clamped) to the hospital transfusion service.
Send first post-transfusion urine specimen for urinalysis
Provide supportive care.

Maintain good urine output.
Manage DIC and hemorrhage as clinically indicated.
Prevention
Pay meticulous attention to identifying the patient and labelling the tubes at specimen collection (to ensure that patient is assigned to the correct blood group).
Pay meticulous attention to verifying the patient's identity, by checking their wristband, before transfusing.

Confirm the patient's identity (for patients that are conscious) verbally in case the patient's armband is incorrect (armband errors do occur).
Febrile non-hemolytic transfusion reaction (FNHTR)
Etiology  
Attributable to:14
Soluble factors (e.g., cytokines) in the plasma of the component transfused
Recipient antibodies, reactive to antigens expressed on cells in the component, usually white blood cells.
Incidence15
|   | Incidence |
| --- | --- |
| RBC | 1 in 300 |
| Platelet Pool | 1 in 20 |
Clinical presentation
Fever usually occurs during or up to 4 hours post transfusion. 

May be associated with chills, rigors, nausea, vomiting and hypotension

Fever is not always present (i.e. chills, nausea, etc., alone).
Management  
Acetaminophen
Meperidine (Demerol®) 25-50 mg IV may be e­ffective for severe rigors if the patient has no contraindications to meperidine.
Prevention
Pre-medication with acetaminophen and diphenhydramine has not been shown to be e­ffective in preventing FNHTR.16,17
In patients with significant and recurrent FNHTR, the following measures have been used but efficacy is unproven:

Acetaminophen, corticosteroids, fresh components, plasma-depleted components, washed red blood cells (washing platelets results in 50% loss of platelets)

Antihistamines are not eff­ective.
ii)  Dyspnea
(Anaphylaxis is described under Allergic reactions/anaphylaxis)
Image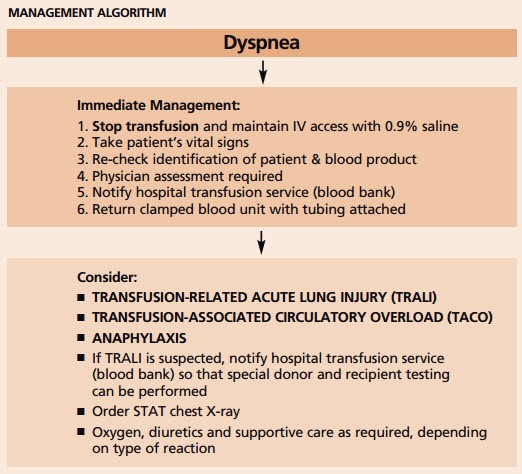 Transfusion-related acute lung injury (TRALI)18,19
De­finition of acute lung injury (ALI)  
Acute onset.
Hypoxemia:

PaO2/FiO2 <300 mmHg; OR
Oxygen saturation is <90% on room air; OR
Other clinical evidence

Bilateral lung infiltrates on the chest radiograph.
No evidence of circulatory overload.
​​​​​
De­finition of

TRALI
In patients with no evidence of ALI prior to transfusion, TRALI is diagnosed if:

New ALI is present
It occurs during or within 6 hours of completion of transfusion
There are no other risk factors for ALI (see orange box above)
De­finition of possible TRALI
In patients with no ALI prior to transfusion, possible TRALI is diagnosed if:

New ALI is present
It occurs during or within 6 hours of completion of transfusion
There are one or more risk factors for ALI (see orange box below)
Etiology
Presently not fully de­fined. Two postulated mechanisms have been implicated:19,20

Antibody-mediated: Passive transfer of HLA or granulocyte antibodies from donor to blood product recipient or, less commonly, HLA or granulocyte antibodies in the recipient (antibodies detected in donor or recipient in 80% of cases).21,22

Antibodies are most common in multiparous female donors as a consequence of prior pregnancies.

Neutrophil priming hypothesis: Biologic response modi­fiers such as biologically active lipids in the transfused component may induce TRALI in a susceptible patient.

23
Incidence
True incidence of this syndrome is unknown two separate hospital-based reports estimate TRALI at 1 in 1,200 to 5,000 plasma-containing transfusions, respectively.21,24 (Both studies were performed before TRALI reduction measures). 21, 24
The incidence of TRALI has decreased by approximately half with implementation of TRALI reduction measures with SHOT and American Red Cross reporting large reductions in cases (see Prevention).76, 25
TRALI is known to be under-diagnosed and under-reported.
Presentation  
Dyspnea, hypoxemia, fever and hypotension.
Chest X-ray reveals interstitial and alveolar in­filtrates (pulmonary edema), without elevated pulmonary pressures.
Usually occurs with transfusion of RBCs, platelets and plasma, but rarely with other blood products (including cryoprecipitate and IVIG).
Almost always within the fi­rst 1-2 hours after the start of transfusion but can be delayed for up to 6 hours.

21

Usually resolves in 24-72 hours.
72% of reported cases required mechanical ventilation and death occurs in 5-10% of patients experiencing a TRALI reaction.

21

Milder forms of TRALI are thought to exist and may present as transient hypoxia.

26

Acute transient leukopenia may be observed after a TRALI reaction.

27
Image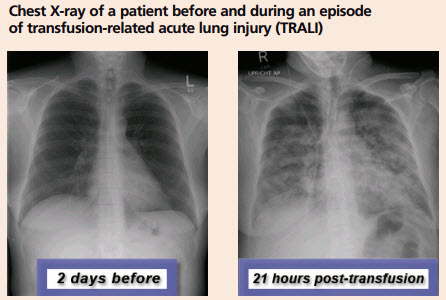 Management
Supportive care, including mechanical ventilation when clinically indicated.
Diuretics and steroids are not believed to be useful in treating TRALI.

28

Accurate reporting to hospital transfusion service is critical to identify implicated donors and prevent TRALI in other recipients.
Patient and donor testing should be arranged through the hospital transfusion service (testing performed through CBS/HQ).
Prevention
Adherence to evidence-based transfusion guidelines.
Component strategies to reduce TRALI include:

Plasma for transfusion predominantly from male donors
Buffy coat platelet pools suspended in male plasma
Plateletpheresis collected from male donors or never pregnant females

Deferral of donors confi­rmed to be implicated in an episode of TRALI, and with either antibodies or implicated in multiple episodes.
Transfusion-associated circulatory overload (TACO)29
Etiology  
Circulatory overload results from:

Impaired cardiac function, AND/OR
Excessively rapid rate of transfusion
Incidence
Current estimate of the frequency of TACO range from 1 in 700 to 8% of transfusion recipients.7
Patients over 70 years of age, infants, and patients with severe euvolemic anemia (hemoglobin <50 g/L), renal impairment, fluid overload, and cardiac dysfunction are particularly susceptible.
Clinical presentation
Clinical presentation includes: dyspnea, orthopnea, cyanosis, tachycardia, increased venous pressure, and hypertension.
Management  
Interrupt the transfusion.
Administer oxygen and diuretics as needed.
Chest X-ray.
Consider restarting transfusion at a reduced infusion rate if clinical status allows and product still viable.
Prevention  
Pre-transfusion assessment is important to identify patients at risk and management should be adjusted accordingly.
Preventative measures include:

Avoid transfusing more than one unit at a time.
Transfuse over longer periods (maximum 4 hours)
Pre-emptive diuretics
Components can be split into smaller aliquots to further reduce the speed of infusion without wasting product or increasing donor exposure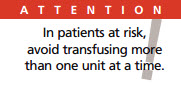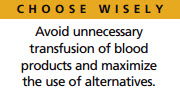 iii)  Urticaria and other allergic reactions / anaphylaxis
Image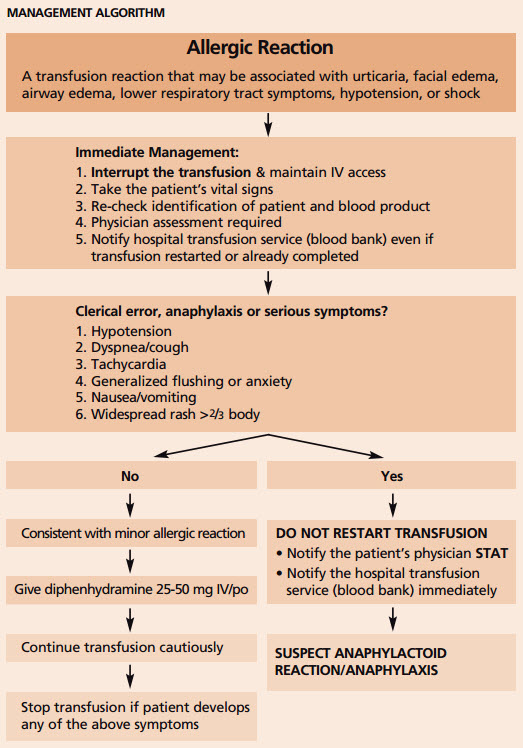 Anaphylaxis
Etiology30
Vast majority of anaphylactic reactions are unexplained.
The following mechanisms have been implicated in anaphylaxis/anaphylactoid reactions:

Anti-IgA in an IgA defi­cient recipient
Antibodies to polymorphic forms of serum proteins (IgG, albumin, haptoglobin, α-1-antitrypsin, transferrin, C3, C4, etc.)
Transfusing an allergen to a sensitized patient (e.g., penicillin, ASA, etc., consumed by donor)
Passive transfer of IgE (to drugs, food)

1 in 500 blood donors are IgA de­ficient (IgA <0.05 mg/dL), and 1 in 1,500 blood donors have anti-IgA, but most are NOT at risk of an anaphylactic transfusion reaction (reasons are not clear at this time).

31

Anti-IgA as a cause of anaphylaxis from transfusion has recently been called into question due to the lack of evidence implicating IgA deficiency in this entity 32

Haptoglobin defi­ciency is not uncommon in Asian patients (1 in 1,000) and has been associated with anaphylactic reactions.

33
Incidence
Transfusion-associated anaphylactic shock is rare.

34

Anaphylaxis accounts for approximately 5% of transfusion associated fatalities.

3
Clinical presentation
30
Reactions usually begin within 1 to 45 minutes after the start of the infusion.
Cutaneous reactions (urticaria) are present in the majority of anaphylactic and anaphylactoid reactions.

When hypotension and hypoxia follow transfusion, examine skin for urticaria (e.g., under drapes in operating room)

Anaphylactic/anaphylactoid reactions are associated with upper or lower airway obstruction (symptoms may include hoarseness, stridor, wheezing, chest pain, dyspnea, anxiety, feeling of impending doom), hypotension, gastrointestinal symptoms (nausea, vomiting), rarely death.
Potentially life-threatening.

Treatment
Stop the transfusion! Do not restart.
If severe urticarial reaction involving > 2/3 body surface area:  Stop the transfusion and do not restart. Administer 25-50 mg diphenhydramine.
Anaphylaxis: promptly administer epinephrine, corticosteroids, diphenhydramine, vasopressors, and supportive care as required.
Provide ventilatory support as indicated clinically.
Prevention of recurrent anaphylaxis
Pre-medication with intravenous steroids and diphenhydramine.
If a patient is found to be IgA-de­ficient with anti-IgA, the following products are recommended:
Minor allergic reaction – urticaria
Etiology
Unclear, but relates to factors in the plasma portion of the component.
Incidence
Urticarial reactions are commonly encountered: 0.42% of red blood cell, 3.04% of platelet and 3.15% of plasma transfusions.36
Clinical presentation
One urticarial lesion to widespread urticarial lesions.
May be associated with pruritis, erythema, flushing, or mild upper respiratory symptoms (cough, wheezing), nausea, vomiting, abdominal cramps, or diarrhea.
Management
Interrupt the transfusion.
Give diphenhydramine 25-50 mg po or IV depending on severity of the reaction.
Restart the infusion slowly only if:

The urticarial rash involves <2/3 of the body surface area and,
There are no associated symptoms suggesting a severe allergic reaction.
Prevention
If the urticarial reactions are recurrent, the following precautionary measures may be used although their efficacy is unknown:

Pre-medication with diphenhydramine and/or corticosteroids.
Plasma depletion of RBCs or platelets.
Washed RBCs or platelets.
iv)  Hypotension37
Image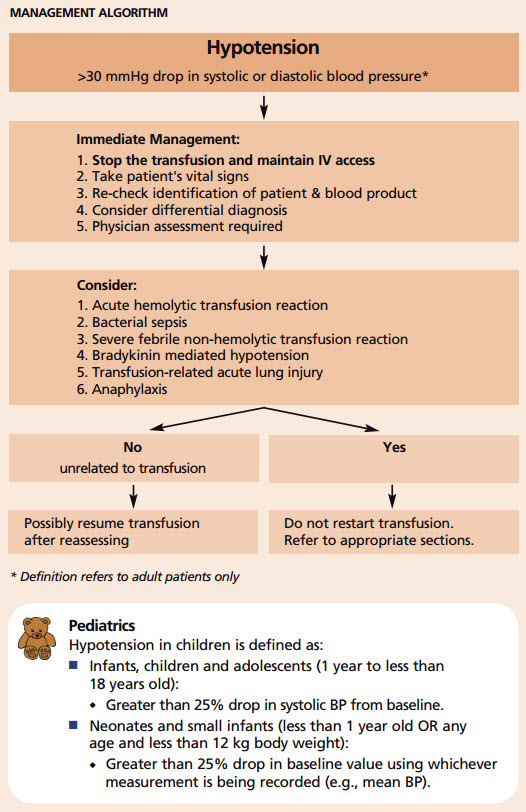 Bradykinin mediated hypotension
Etiology
Bradykinin is believed to play a major role in generating hypotension.
Angiotensin-converting enzyme is the main enzyme responsible for degradation of bradykinin.

Some individuals have a genetic polymorphism resulting in a decrease in bradykinin degradation.
Incidence
Unknown.
Clinical presentation  
Majority of hypotensive reactions occur with platelet transfusions.
Of reported cases, over half of the patients were on ACE inhibitors.
Other symptoms may be present, including dyspnea, urticaria, nausea, and vomiting.
Rarely associated with signi­ficant morbidity or mortality.
Treatment
Detect early: Monitor the patient for the fi­rst 15 minutes and vital signs at 15 minutes.
Stop the transfusion and do not re-start.
Provide supportive care, including intravenous fluids.
Consider acute hemolytic transfusion reaction, sepsis, TRALI and allergic reactions in the differential diagnosis.
Prevention
In cases where ACE inhibitors were implicated, consider (where possible) an alternative anti-hypertensive prior to additional transfusions
v)  Hemolysis after Transfusion
Hemolysis Not Related to RBC Alloantibodies
Hemolysis may also occur in the following settings and should be considered in the diff­erential diagnosis of hemolysis after transfusion:

Use of hypotonic IV solutions with RBC transfusions
Medical device-related (e.g., cell saver, blood warmer malfunction)
Overheating of RBCs due to improper storage (e.g., RBCs placed on radiator)
Freezing of RBCs (e.g., transport of blood directly on ice or storage in freezer)
Transfusion of RBCs under pressure through a small bore needle
Transfusion of outdated or near outdated RBCs
Non-transfusion-related causes

Most are benign, but life threatening hemolosis with severe anemia and renal failure may occur.
Delayed hemolytic transfusion reactions
Etiology
Results from the formation of antibodies in the recipient (to transfused red cell alloantigens or from RBC antigen exposure during a prior pregnancy) and below the level of detection on the initial antibody screen testing.
Commonly implicated antigens are (in order of frequency): E, Jka, c, Fya, K.

38

Delayed hemolysis may occur with transfusion-transmitted malaria and babesiosis
Incidence
8% of recipients will have newly formed RBC alloantibodies detected in the first 6 months.

77

1 in 6,715 units of RBCs transfused are associated with a delayed haemolytic transfusion reaction.

38
Clinical presentation
3 days to 2 weeks after transfusion, the patient presents with hemolytic anemia (low hemoglobin, high bilirubin, reticulocytosis, spherocytosis, high LDH, positive antibody screen, and a positive direct anti-globulin test).

39
Co
mplications
Most are benign, but life-threatening hemolysis with severe anemia and renal failure may occur.
Treatment
Transfuse compatible blood ('antigen negative' i.e., if the off­ending antibody is anti-Jka, then the transfusion service will
provide units that do not carry the Jka antigen).
Prevention  
Avoid RBC transfusions.
Use of antibody screening methods with maximal sensitivity.
Notify patient and provide an antibody card for the patient to carry in their wallet.
vi)  Cytopenias after transfusion
Transfusion-associated graft versus host disease (TA-GvHD)40,41
Etiology  
TA-GvHD has been reported in immunocompromised patients or in immunocompetent individuals transfused a fresh (<14 day old) haploidentical product. (The risk of an HLA-haploidentical donor in North America is estimated at 1 in 17,700 to 39,000.)42,43

A donor who is homozygous for an HLA type (haploidentical), whose blood product is transfused to a recipient who is heterozygous for the same HLA type and a different HLA type places the recipient at risk

The donor's lymphocytes mount a reaction against the non-matching HLA determinants on the recipient's cells
Incidence
Unknown; there were 13 cases reported in the UK SHOT program from 1996 to 2001; since 2001 there has been one case in 2012 attributed to failure to irradiate maternal blood for an intra-uterine fetal transfusion.76
Clinical presentation
Fever, rash, liver dysfunction, and diarrhea commencing 1-2 weeks post-transfusion followed by pancytopenia later.
Overwhelming infections are the most common cause of death.
Mortality is >90%.43
Diagnosis can be made by biopsy of skin, liver, or bone marrow.
Confirmation requires documentation of the presence of donor lymphocytes (e.g., HLA typing, short tandem repeat analysis).
Treatment
Largely ineffective.
Survival (which is rare) is attributed to immunosuppressive therapy.
Prevention
For patients at risk (see below), it is critical to irradiate cellular blood components (RBC and platelets).
To avoid unacceptable high hemolysis (>0.8%) and elevated potassium levels from irradiation, adherence to the Council of Europe's guidelines is advised. Red cells may be irradiated up to 28 days after collection and should be transfused as soon as possible, but no later than 14 days after irradiation, and no later than 28 days after collection.44,45
[Reference46]
Image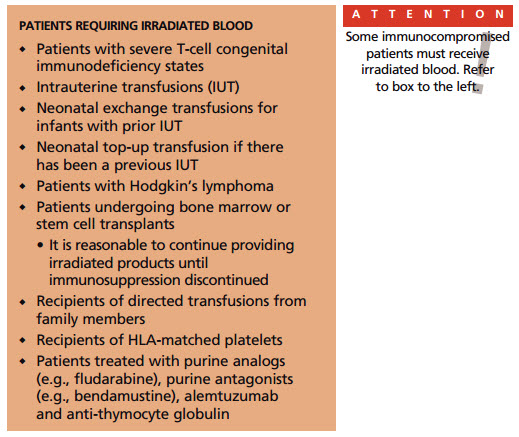 Notify patient in need of irradiated blood and provide a card for the patient to carry in their wallet.
Image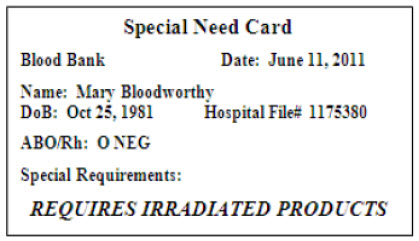 Post-transfusion purpura (PTP)47
Etiology
Transfusion of platelet antigen-positive RBCs, plasma, or platelets to a patient who lacks the same platelet antigen.

75% of cases occur in an Human Platelet Antigen-1b (HPA-1b) homozygous patient who is transfused HPA-1a positive blood products
3% of the North American population are HPA-1b homozygotes, but only 28% appear able to form anti-HPA-1a

Autologous platelet destruction occurs but the mechanism is unclear.
Incidence
1 in 100,000; post-transfusion purpura occurrence among the inpatient U.S. elderly, as recorded in large medicare datebases during 2011 through 2012.48
Clinical presentation
There are 5 times as many female transfusion recipients with PTP as males, as a consequence of sensitization in a previous pregnancy.
Occurs post-transfusion at a mean of nine days (range 1 to 24).
Platelet count is less than 10 x 109/L in 80% of cases.
Mortality is 8% and the majority of deaths are from intracranial hemorrhage.
Transfusions are frequently associated with fever, chills, rigors, and bronchospasm.
Differentiation from straightforward platelet alloimmunization is problematic.

PTP should be considered when a platelet refractory patient fails to respond to HLA-matched platelets
Treatment
Test patient plasma for platelet-speci­fic antibodies (performed at CBS/HQ).
Thrombocytopenia lasts approximately 2 weeks.
First-line therapy is IVIG at a dose of 1 g/kg daily for 2 days; the platelet count is expected to increase 4 days after the start of therapy.
Prevention
Patients with PTP should receive antigen-negative RBC and platelet transfusions (washed RBCs do not appear to be safe in this population).
Warning
Affected patients (and their relatives) are at risk of neonatal alloimmune thrombocytopenia (NAIT). The family should be tested and counselled regarding both PTP and NAIT.

NAIT occurs when a woman has anti-platelet antibodies (usually anti-HPA-1a) and is carrying an antigen-positive fetus; the infant is frequently born with severe thrombocytopenia, and sometimes, intracranial hemorrhage
Transfusion-related alloimmune thrombocytopenia
Uncommon cause of thrombocytopenia.
Due to platelet speci­fic donor alloantibodies to patient platelet antigens.

49
Transfusion-related alloimmune neutropenia50
Rare cause of neutropenia.
vii)  Virus, parasite and prion infection
(Bacterial contamination is described under Fever)
Viruses
Risk
Donating blood in the 'window period' – the interval between the time of  infectivity and the appearance of detectable disease markers such as specifi­c antibodies or viral nucleic acid sequences.
Current 'window period' estimates are:51

10 days for HIV
8 days for HCV
38 days for HBV
| | |
| --- | --- |
| West Nile Virus (WNV) | <1 in 1,000,000 |
| Hepatitis B virus (HBV) | 1 in 7,500,000 |
| Human T-cell lymphotropic virus | 1 in 7,600,000 |
| Hepatitis C virus (HCV) | 1 in 13,000,000 |
| HIV | 1 in 21,000,000 |
Cytomegalovirus (CMV)
Leukoreduced cellular components have a very low residual risk of transfusion transmitted CMV.
It is unknown if CMV seronegative units have any additional benefit to leukoreduction.

The estimated residual risk of CMV from leukoreduced red cell and platelet units is 1 in 13,575,00054

An allogeneic stem cell transplant program recently reported on a decade of patients undergoing allogeneic transplant with leukoreduction as the sole strategy without a single patient developing transfusion transmitted CMV.55
The current requirement for residual WBC after leukoreduction is <5.0 X 106 WBC/unit.

For fiscal year 2014/15 the mean monthly residual WBC far exceeded these requirements (data from CBS):

Pooled platelet - 0.006 X 106 WBC/unit (fail rate 0.00%)
RBCs - 0.063 X 106 WBC/unit (fail rate 0.15%)

CMV serology must be drawn before allogeneic transfusions commence, otherwise false positive results may be found due to passive antibody detection.
West Nile virus (WNV)
No reported cases of transfusion transmitted WNV in Canada since nucleic acid testing of donations began in 2003.

56

Facts about transfusion-transmitted WNV:

The virus can be transmitted through RBCs, platelets, plasma, and cryoprecipitate, but not through manufactured blood products (e.g., albumin, IVIG, clotting factor concentrates)
The onset of symptoms post-transfusion has ranged from 3 to 13 days (median 7 days)
Symptomatic recipients were primarily immunocompromised patients; however, post-partum and post-operative patients have been affected.
Parasites


Chagas disease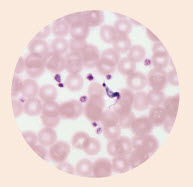 Chagas Disease is caused by the protozoan Trypanosoma cruzi found predominantly in Central and South America.
There have been 7 reported cases of transfusion transmitted Chagas in U.S. and Canada, mostly with platelet products.57
Since May 2010, at risk donors in Canada are tested for Chagas disease.
The current risk of transfusion-transmission is estimated to be 1 in 4 million, based on U.S. data.

58
Prions
Variant Creutzfeldt-Jakob disease (vCJD)
4 suspected cases of transfusion-associated transmission have been reported in the U.K.

59

1 suspected case of transmission from U.K.-derived Factor VIII concentrate.

60

At present, high-risk blood donors (resident in the U.K. or France for more than 3 months, or Saudi Arabia for more than 6 months, between 1980-1996, or in Europe for more than 5 years between 1980-2007) are deferred in Canada.
Other transfusion-transmissible agents57, 61, 62
Other rare infectious agents con­firmed to be transmitted by blood components that may cause symptomatic infection include:

Viral – Parvovirus B19, Hepatitis A and E, Dengue, Chikungunya, Tick-borne encephalitis, Colorado Tick Fever, Human Herpes virus 8, SEN Virus, Simiam foamy virus and Zika virus
Protozoal – Malaria, Babesiosis, Leishmaniasis, Toxoplasmosis
Helminthic – Filariasis
Spirochetal – Treponema pallidum (Syphilis)
Rickettsial – R. rickettsii (Rocky Mountain Spotted Fever), R. burnetii (Q fever), Ehrlichia (Ehrlichiosis)

It is extremely important to report cases of the above infections in transfusion recipients and recent blood donors.
viii)  Complications of massive transfusion
De­finition 
More than 10 units of RBCs, or, transfusing more than one blood volume in a 24-hour period.
Massive transfusion is an independent risk factor for developing multi-organ failure.

63
Complications64
The complications described below are dependent on the following factors:

Number of units transfused
Rapidity of transfusion
Patient factors
1. Dilutional coagulopathy
50% of massively-transfused patients develop an INR >2.0 and about 33% have thrombocytopenia with a platelet count <50 x 109/L.

65

Number of RBCs transfused does not accurately predict the need for platelet and FP transfusion; frequent laboratory measurements are required to guide transfusion decisions.
In one large randomized controlled trial, resuscitation of trauma patients with 1:1:1 was not found to be superior to resuscitation with a ratio of 2:1:1 (RBC:FP:PLT).66

Only patients with extremely rapid hemorrhage were enrolled in this trial and formula-driven resuscitation should not be applied to less extreme hemorrhage situations.66
2. Hypothermia  
Rapid infusion of cold blood can result in cardiac arrhythmias.
Prevention is critical – if massive transfusion is likely, use an approved and properly maintained blood warmer.
Mortality after massive transfusion is inversely related to core temperature (data from 1987):

69

<34 °C – 40%
<33 °C – 69%
<32 °C – 100%

Every 1 °C drop in temperature increases blood loss by 16% and the risk of transfusion by 22%.70
Risk of clinically important hypothermia is signi­ficantly increased by infusion of 5 or more units of blood.

69

Consequences of hypothermia:

Platelet dysfunction
Decreased coagulation factor activity
Reduced clearance of citrate
Decreased cardiac output
Hypotension
Arrhythmias (especially if cold blood is transfused rapidly through a central line)
3. Hypocalcemia/hypomagnesemia/citrate toxicity
Citrate is the anticoagulant used in blood components.
It is usually rapidly metabolized by the liver.

A normothermic adult not in shock can tolerate upwards of 20 units per hour without calcium supplementation.

With massive transfusion, the capacity of the liver to degrade citrate may be overwhelmed.
Citrate binds ionic calcium and magnesium, causing functional hypocalcemia, hypomagnesemia, and also metabolic alkalosis (from bicarbonate, a metabolite of citrate).
Clinical symptoms include: hypotension, narrow pulse pressure, elevated pulmonary artery pressure, tetany, paresthesia and arrhythmias.
If hypocalcemia develops OR patient develops signs or symptoms of hypocalcemia then administer:

1 gram (1 ampoule) of calcium chloride IV at maximum rate of 100 mg/minute
4. Metabolic acidosis
Rare; from acid pH of blood products.
Usually, metabolic alkalosis occurs due to bicarbonate production from citrate metabolism.
May be an indicator of lactic acidosis in patients and tissue hypoperfusion.
5. Hyperkalemia

71
Release of potassium from stored RBCs increases with storage time and after irradiation.
Potassium concentration in a non-irradiated SAGM-RBC unit is approximated by the number of days of storage (110 ml of supernatant/unit).

For example, a 42 day old RBC has a potassium concentration of approximately 45 mmol/L

72

Order bloodwork q1h (e.g., CBC, INR, PTT, fibrinogen, calcium, arterial blood gas, potassium).
Image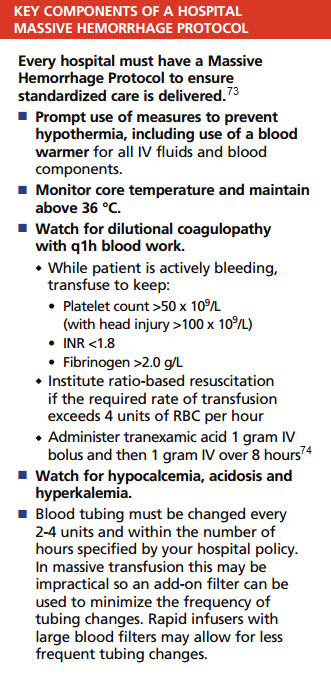 ix)  Postpartum hemorrhage (PPH)
The above Massive Hemorrhage protocol also applies to the patient with a massive postpartum hemorrhage
All postpartum females should be closely monitored for early signs of hemorrhage
Protocols for rapid administration of uteronics must be in place at all hospitals with obstetrical patients
Use of intrauterine balloons should be a key part of the early management while a decision is being made regarding definitive therapy (i.e., hysterectomy vs. uterine artery embolization).
RBC transfusion, when indicated clinically, should NOT be delayed while waiting for pre-transfusion testing and uncrossmatched blood should be administered.

uncrossmatched blood must be available within 10 minutes of the onset of a postpartum hemorrhage at all hospitals with obstetrics

Maintain fibrinogen level above 2.0 g/L with early and aggressive use of cryoprecipitate.75
Continuing professional development credits
Fellows and health-care professionals who participate in the Canadian Royal College's Maintenance of Certification (MOC) Program can claim the reading of the Clinical Guide to Transfusion as a continuing professional development (CPD) activity under Section 2: Self-learning credit. The reading of one chapter is equivalent to two credits.
If you have questions about the Clinical Guide to Transfusion or suggestions for improvement, please contact us through the Feedback form.
References